Gareth Hoskins: April 1967 - January 2016, by Sunand Prasad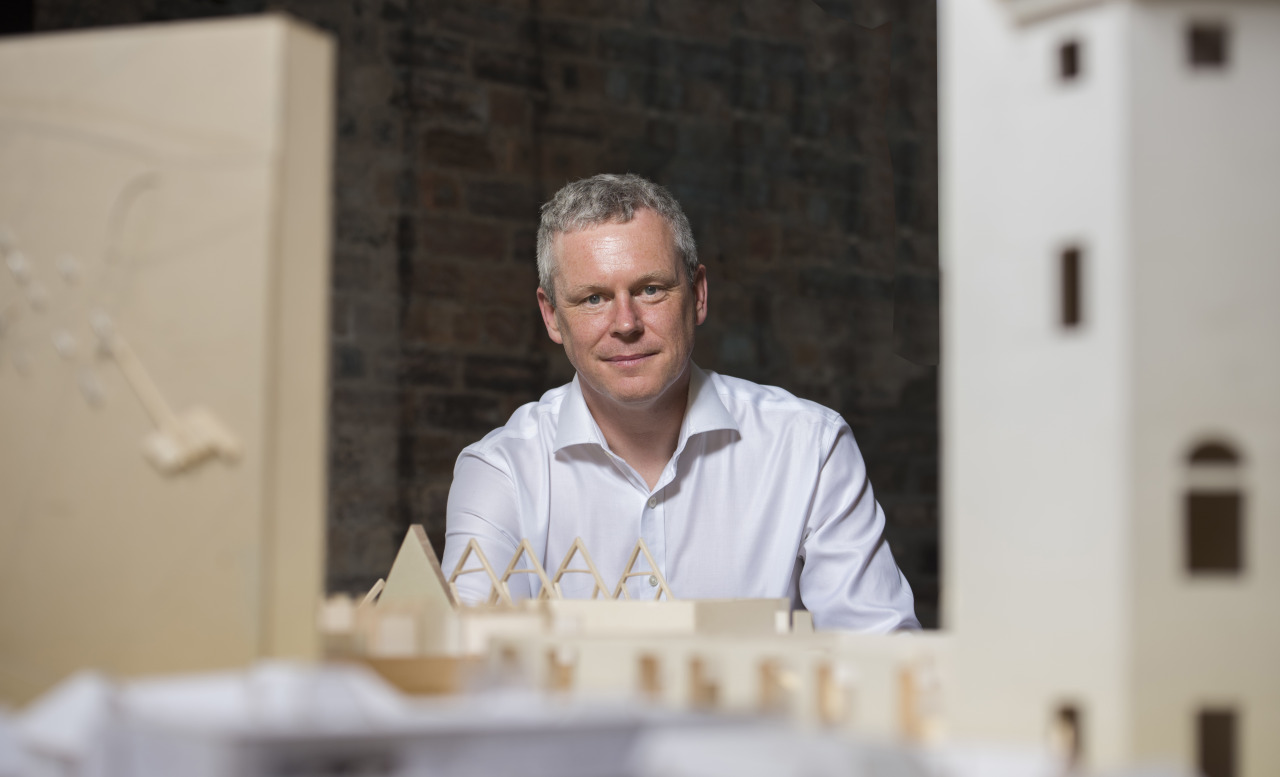 Gareth Hoskins was a gifted architect, a natural leader, and a tireless ambassador for design through its power to improve our lives. He died on 9th January 2016 following a heart attack while attending a fencing match, having been an accomplished fencer himself.
Gareth was born in 1967 in Edinburgh. His father was an actuary and his mother a distinguished practitioner and judge of flower arrangement. Gareth attended George Watson's College in Edinburgh. By his own account, his academic achievements were unexceptional but it was upon discovering architecture that he found his real calling. Having got a place at the Mackintosh School of Architecture, he left school a little early to work for the summer at Michael Laird's practice to which he returned in the following summers, having greatly enjoyed the experience. After his degree at the Mac he enjoyed a year out with Trevor Dannatt who remembers him as a 'natural architect' with a 'boyish enthusiasm'. Gareth's ability to revel in architecture both as a pursuit and as a business was evident early on.
His final two years at the Mac under Andy MacMillan and Isi Metzstein brought Gareth rich opportunities: six months in Florence, under the Erasmus Exchange Programme, focussing on large scale urban projects, followed by a final year project for a new railway station in central Florence, which won the City of Glasgow Silver Medal and the RSA architecture award; and then working on an installation at the Mackintosh School of Art with Ted Cullinan as part of 'Glasgow European Capital of Culture 1990'. After a spell helping to build the Mac pavilion for the 1991 Venice Biennale and travelling in Europe, Gareth joined the London-based architects, Penoyre & Prasad, in 1992.
No one who ever worked with Gareth would have failed to notice his ready facility with design at all scales; that 'sixth sense' about shape, use and materials that few have. Gareth worked on a number of health, community and arts projects at Penoyre & Prasad including a prison visitor centre whose client was to be his first in his own practice.  He spoke fulsomely of the value of this experience and, in turn, Greg Penoyre and Sunand Prasad have spoken of Gareth's contribution to the development of the practice's architecture.
It was on his return to Scotland that he and Sarah, whom he had met at university through his love of fencing, were married. They went on to have two children. Equal to his passion for architecture was his love of family life.
By his early thirties he had already matured as an architect having assimilated a number of architectural influences, broadly in the tradition of modernism but with a people-focussed approach, and had the opportunity to put them into practice. In 1998 he returned to Scotland to set up Gareth Hoskins Architects in Glasgow, and within a year there were five people working on three projects, all won through competition. The smallest was also of the highest profile: the Mackintosh Gallery at the Lighthouse which Deyan Sudjic (director of Glasgow: UK City of Architecture & Design 1999) described as "probably the worst possible burden to expect a Glasgow educated architect to tackle", adding of Gareth: "but he emerged unscarred". He was named Young Architect of the Year in 2000.
Gareth's consummate skills in networking and communication, and the growing reputation of the practice, brought forth several opportunities to compete for steadily larger and more high profile projects.  The practice won many of these competitions in no small part through the clarity of thinking and elegant diagrammatic presentations of spatial ideas. The Bridge Arts Centre, Easterhouse and the Mareel Cinema and Music Venue in Shetland won RIBA awards and were under initial consideration for the Stirling Prize ('the mid-list'). In 2003, Gareth Hoskins Architects won the international competition for the £47m redevelopment of the National Museum of Scotland, which was completed in 2011 and won the Andrew Doolan Award for the best building in Scotland. The practice won and completed several highly regarded projects in the arts, healthcare, housing and master-planning with many of them recognised through awards, but some of the smaller projects attracted equal attention in wider architectural circles: the 'Architecture for All' Gallery at the Victoria and Albert Museum (2004) in London and the first ever Scottish Pavilion at the Venice Biennale 2008.
At the same time Gareth became deeply engaged with the promotion of architecture and design as a public good. He was involved in Architecture & Design Scotland from its inception in 2005 as a Board member and regularly chaired its design review panels. He was the Scottish Government's National Healthcare Design Champion from 2006 to 2010. In 2008 Gareth was made a Fellow of the Royal Incorporation of Architects in Scotland and the following year he was elected to the Royal Scottish Academy. He was recognised with an OBE for services to architecture in 2010.
The practice, now Hoskins Architects, has continued to grow and has several major projects on the boards. It established a Berlin office in 2014, having secured commissions in Berlin, Munich and Vienna.
The members of the practice, like his clients, speak over and over again of his warmth, his persuasiveness, his determination, his ability to listen and his high standards. Gareth Hoskins had a rare combination of real talent and total conviction about his own views together with a genuine openness to other's ideas to synthesise into a greater whole.
Sunand Prasad
14th January 2016